RESULT: POMPEY 1:1 SAINTS
15.42
Just the one arrest today, relating to a smoke bomb that was let off in the Milton End of Fratton Park.
15.40
And with that it's probably time to leave the live coverage, with Saints fans now on the M27 home.
15.35
The Saints players are filtering out of the ground now.
15.15
So was the draw a good result for Saints? Have your say:
14.58
Fans are filtering out of the ground and the travelling contingent are being shepherded back to the bubble.
14.57
Well Portsmouth fans will certainly be the happier with the point. Although it was by no means a classic Saints were the better side and should have put the game to bed before the equaliser, which was caused mainly by Guly going to sleep.
FULL TIME
Pompey rescue a point but Saints are the ones who go into Christmas top of the league.
90+1mins
Lambert volleys narrowly over from 10 yards.
90mins
Three minutes added.
84mins
That goal certainly woke up the natives. But Saints come again to look for the winner.
83mins
GOAL. Pompey equalise through Ward who rises above everyone at the near post following a corner from the left of Davis' goal.
82mins
Lallana feeds in Guly who has his shot saved. Comes back out and eventually ends with Schneiderlin to blasts over.
80mins
Good work from Richardson and Cork. Lambert in the box manages to get the ball as far as Guly who flashes a shot across the face of goal.
78mins
Pompey sub, Mullins off and Futacs on.
76mins
Saints sub. Fox replaced by Harding.
73mins
Not much has happened since the goal. Saints doing well at holding Pompey at arms length whilst trying to create a couple of openings.
64mins
Pompey sub - Lawrence replaced by Huseklepp.
GOAL! Who else but Rickie Lambert? He beats Pearce in the air to nod home Danny Fox's freekick.
60mins
Poor challenge from Matlock on Guly, as the game gets more and more stretched. Fox takes the free kick and Lallana volleys over at the far post.
58mins
Schneiderlin hits a shot into the ground and the keeper scoops it up.
55mins
Pompey finally starting to push higher up the pitch but Saints have so far been able to0 keep them at bay and preventing any real chances.
52mins
Guly crosses from the right and Lambert hits his shot into the ground and the keeper collects, just inches ahead of Schneiderlin.
45mins
We're back in action. Saints shooting towards the travelling supporters.
Attendance:
19,879
Half time entertainment is a raffle for £123. As the winner comes on, the Saints fans chant "Why don't you buy the club!?!"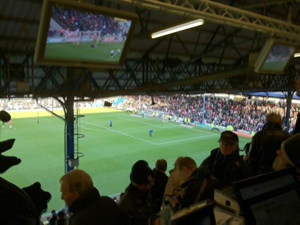 45+1
Halford goes close with a long distance freekick with pretty much the last kick of the half. That's half time and it's still 0-0.
45mins
One minute added for stoppages.
42mins
Norris hits a daisycutter which goes just inches wide of Davis' right hand post.
36mins
Ball goes into crowd for a Saints throw but the home fans refuse to give it back, instead choosing to throw it around the stand a little first. "We're just too good for you" sing the Saints fans in reply.
32mins
Adam Lallana humiliates three Pompey players on the left wing has he dances past them.
30mins
Jack Cork is the first name in the book after a challenge on Kitson.
29mins
Norris turns well in the box after the first decent bit of Pompey play. However his shot/cross is from an acute angle and Davis plucks it out of the air..
25mins
Guly wins a free kick on the left of the area in prime Lambert territory. Rickie steps up and his shot is saved by Henderson fairly easily.
21mins Cross from Lawrence met by Ward by Davis collects it easily.
20mins
The Pompey fans chant "Your support is not very good" (or something similar) while the Saints fans retort with "We can see your empty seats."
18mins
Hammond with a poor challenge on Halford. People have gone for less in the past, but he's escaped with a warning.
15mins
Schniederlin and Lallana linking up well on the left, with theh Frenchman whipping in a cross that is headed out for a corner, which is cleared easily. Saints trying to keep some pressure on for the first time in the match.
14mins
Lambert heads over after a cross from the right. In other news, something sounding suspiciously like a bell is now ringing.
13mins
Both sides are looking a little nervous, but Saints look to have settled the better of the two. Slowly getting into their stride.
8mins
Saints fans in good voice, throwing the banter straight back at the home contingent.
7mins
Guly has a chance a the far post after another corner but fluffs his shot from six yards.
5mins
Lallana wins Saints first corner but the keeper comes to collect at the far post.
3mins
Even opening exchanges so far.
12.57
The teams walk out onto the pitch. Incredible noise.
12.555
Echo reporter Dan Kerins has just arrived. This is his view as he got to Fratton park:
12.46
Daily Echo reporter Adam Leitch: "The team selections suggest a tight and tense game but anything can happen in what is a cauldron of an atmosphere at Fratton Park. This is just such a thrilling occasion."
12.40
Pompey have surprised some by going for a pretty defensive formation and sticking in Liam Lawrence after six weeks out through injury and only a week of training.
12.31
Daily Echo reporter Luke Tugby, with the 'bubble', has posted on Twitter: "Well the 'bubble' hasn't burst yet. Very well planned and executed police operation so far."
12.30
Daily Echo reporter Jon Reeve has posted a panoramic photo from the Saints end
For a larger version, click here.
12:29
The teams are out on the pitch to warm up. Pompey were out first, followed a few minute afterwards by Saints. The noise is incredible - helped by the drum band on the pitch - and we are still 35 minutes from kick off and the ground is at most half full.
12:12
The bubble has started to arrive at Fratton Park and the first few Saints fans are in the ground. The atmosphere is really starting to build.
12:10
Pompey team: Henderson, Halford, Pearce, Rocha, Mattock, Mullins, Thorne, Ward, Lawrence, Norris, Kitson. Subs: Ashdown, Mokoena, Huseklepp, Benjani, Futacs.
12:00
We have the Saints team for the big game and no surprises. Davis, Richardson, Fonte, Hooiveld, Fox, Schneiderlin, Hammond, Cork, Lallana, Do Prado, Lambert. Subs: Bialkowski, Harding, Martin, Holmes, De Ridder.
11:55
Daily Echo reporter Dan Kerins has posted a video of the 'bubble' making its way along the M27.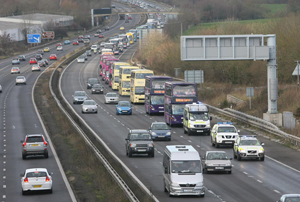 11:50
Further to the post below, Kelvin Davis is beginning warm-ups on the Fratton Park pitch, alongside Bartosz Bialkowski.
11:45
Whispers going around Fratton Park that Kelvin Davis is not 100 per cent fit but will play.
11:35
Daily Echo reporter Gordon Simpson has posted a picture of some of the Saints players heading down the tunnel at Fratton Park.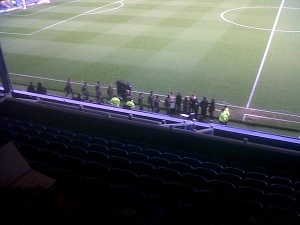 11:31
The turnstiles at Fratton Park are open and the first few Pompey fans are in the ground. The atmosphere is building. There is a real big game buzz around this place.
11:29
The Saints team are in the building. Have to walk around the pitch to get to the changing rooms.
11:22
Daily Echo reporter Gordon Simpson is already in Fratton Park, and has posted a pitchside picture here.
11:18
Daily Echo reporter Luke Tugby, who is with the 'bubble' has posted from Twitter: "Atmosphere already building as we drive through Southampton. Residents waving and cheering, cars honking horns."
11:02
But to focus on the football, what do you think will be the outcome today? Vote below and stick your comments under the line:
11:01
Saints fans at St. Mary's are due to be getting on their buses about now as part of the controversial 'bubble' that will take them down to the game.
Fans at Bursledon will be picked up shortly and fans in Winchester were due to be picked up about half-an-hour ago.
11:00
Hello and welcome to the Daily Echo's coverage of Saints' Championship fixture at the home of local rivals, Portsmouth.
These two sides last met at Fratton Park in April 2005 in a day best forgotten by most from the red half of Hampshire.
However since then both clubs have seen relegation, administration, points deductions and numerous managers and this will be the first League meeting between the two sides since 2005.